Paddy says vegetable gardening doesn't have to be done during the day. He says many garden pests are nocturnal such as caterpillars and mice so spending a little time in your garden in the evening is recommended to help fend off the bugs. We usually like to carry some garlic fire to spray on any bugs we find.
Solar lights are probably the most popular garden lights because they are so simple to use. They have no cables and contain their own batteries so they'll charge during the day and shine during the night. The difference between the good solar lights and the bad ones is how much sun they need to charge, how long they need to charge, how bright they are and how long they will stay on for, If you're lucky you can hope to get about 5 hours of light after a days charge in full sun. As the battery ages inside you will notice a decrease in performance.
Most Solar Powered Path Lights are only good for highlighting a point in he garden as they don't cast any light on the surrounding garden.
Punch! Landscape, Deck & Patio Designer V12
12 volt garden lights have a wall plug that converts household power to 12 volts DC. These lights are usually much brighter then the solar lights and can provide some illumination of the area around the light.
These lights are great because they won't electrocute any people or pets if they get cut or bitten. Most hardware stores like Bunnings sell a variety of these types of garden lights. You can buy the lights and transformers separately but we noticed that it's usually much cheaper to buy together in a kit.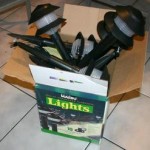 The particular lights we found were at Crazy Clarks or Red Dot and were exactly the same as the ARLEC lights in Bunnings but with different packaging. We were able to get 10 lights, 100 metres of cable and the 12volt power supply for about $30 – which is a great deal.
240 volt garden lights are usually permanent setups. 240 volt lights are needed to throw light on trees and bushes as well as BBQs and the like. Obviously you should be very careful if you"re digging around these cables in the garden as the voltage is deadly. If you have cats or dogs that could dig up and chew the cables we'd recommend at least getting a safety switch for your fusebox if running the cables through garden beds or over open spaces.
Extending cable lengths
You can easily extend the cable lengths of 12 volt garden lights if they are not long enough. You'll need to use cable of a similar thickness. If you plan on attaching lights to the segment of new cable you had better test that it does connect with he light fittings properly. Check how the lights connect to the cable if you're unsure.
The cable doesn't have to be exactly the same – I used an old 240 volt power extension cable by cutting the plugs off either end  and connecting two of the three wires at each end. Obviously It doesn't matter which colour wires you use as long as you connect to the same two at the other end. You should test you have the connections around the right way so that the lights work before you use some heat shrink or strong tape to cover he connection so that it does not get wet and short out the power pack. Many power packs don't have fuses so if they do short out you'll have to try Dick Smith or Ebay for a replacement one of the same specifications.
If the cables are too long you could also trim them to the correct length, just make sure you don't cut off anything important!
If you want to extend 240 volt garden lights you should just use an outdoor extension cord and a waterproof protective capping around the join. We found cheap extension cord caps for $5 at Bunnings in the pressure washer section for use when washing cars.
You can extend a 240 volt cable by cutting and splicing the cable but if you are not a trained electrician it's illegal because of the dangerous voltage traveling through the cable – so please don't try it unless you know what you are doing.